May 13, 2005
I got a pair of side cover emblems from Brian Cutler in Australia. His company "BadgeReplicas" produce a high quality repro of the GT750 side cover badge with flake finish GT lettering.
This page shows the badges installed on my covers and a photo of three variants of emblems
April 27, 2005
Snow is gone and spring is here. Here is a movie showing a few scenes from the Classic Suzuki Club Scandinavia (CSCS) annual spring meet outside Stockholm.
February 10, 2005
The bike is in its winter sleep, about three months until spring is here. Mileage is now 3990 kilometres. I haven't been updating these pages lately but here is a recollection of what happened since May 28, 2004 :
I used it at the MCHK (Motor Cycle Historical Club) "Stocholm Rally", a great bike event that occur annually.
I shot and edited a movie, some scenes are from aboard the GT750L on the road :
See: http://www.classicsuzuki.com/film (RealPlayer required)
In June 2004 the bike won the Classic Suzuki Club Scandinavia concours in the category "2-stroke above 500cc"..
The bike and its owner got illustrated over a full color 2-page fold in the Swedish magazine "Classic Bike" part of a spectacular photo session with several of the club's bikes over several pages. A moment of fame. Great honor.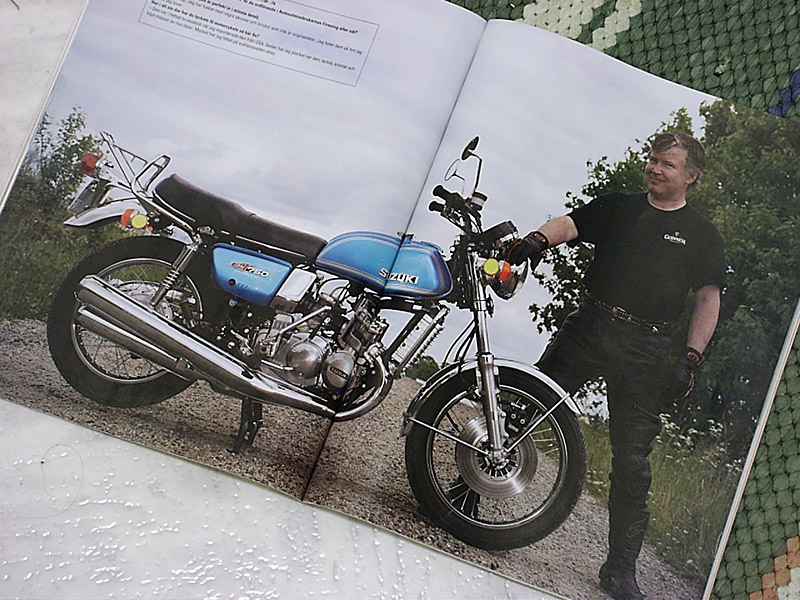 May 28-30, 2004
Me and Leif Österberg, another club colleague from outside Stockholm, travelled to the 2004 Norwegian "Classic Meet" in Bö, Telemark, Norway, arranged by Classic Suzuki Club Norway. It was a trip of around 850 miles total over the weekend. Due to the unusually cold weather it was a physical challenge to endure 120 mile motorway runs between tank stops but once on site we found lots of joy with our norwegian friends and the common bike interest. An ambitious arrangement where many classic Suzuki models and other Japanese classics visited.
A more detailed page about our Classic Meet trip here !
The GT750L ran very well except for some minor service issues required along the way. The charger relay was adjusted too aggressively so the battery dumped acid and ran dry, the lower beam hedlamp burnt out, chain tensioning/lubrication was needed once. The gear indicator logic seems to have gotten messed up by overvoltage so the LED show "9" rather than "5".A tank stop was needed each 120 miles or so. But it's amazing that a 30 year old model can manage continous highway speeds for hours with such reliability. Luckily I had changed the front sprocket to 16 teeth the night before otherwise I would never have kept up with Leif's GS1100 which has better 'overtaking authority' on the highway.
The GT750L won a prestigious award on May 29 by winning the "Suzuki 651-750cc" category at the concour !
This is a very honourful result given the refinement level of many of the norwegian bikes in this category.
I rate this as a personal achievement due to the long distance travel on the bike the day before. So now I'm the owner of a Champion with all the troubles that follow (I'll be driven to maintain/refine the level even further....) although this bike was originally not intended to end up in this category but was going to be a sun-bleached every-day bike to use in any weather.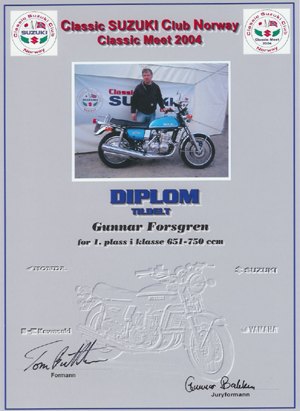 Happy winner with GT750L

April 17, 2004
Time for the Classic Suzuki spring meet in perfect sunny weather on winding roads south of Stockholm. The exhaust system was a bit louder than the one I replaced but probably they are when new. Another GT750J owner had problems with a dead battery so he got lost along the way and we had to turn back to find him. Lots of fun anyway and finally everybody was back home after some 120 miles in one day. It was a perfect event for getting some engine run-in, I've now passed 100 kilometres and the engine feels better all the time.
April 16, 2004
It was really time now to get the GT750L ready for the Classic Suzuki spring meet on Saturday April 17. I worked until 2am in the morning with installing the NOS exhaust system. One O ring for the intermediate exhaust pipe tubes were missing and I finally had to take the GT750J exhaust apart to borrow an O ring from it. But I got ready for Saturday.
March 17, 2004
The parts from GTReiner arrived :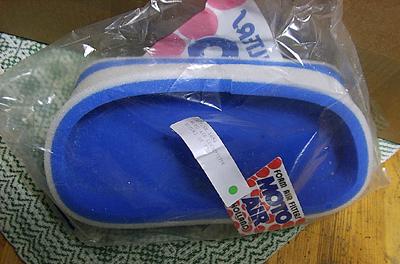 Air filter LMAB 'Moto Air'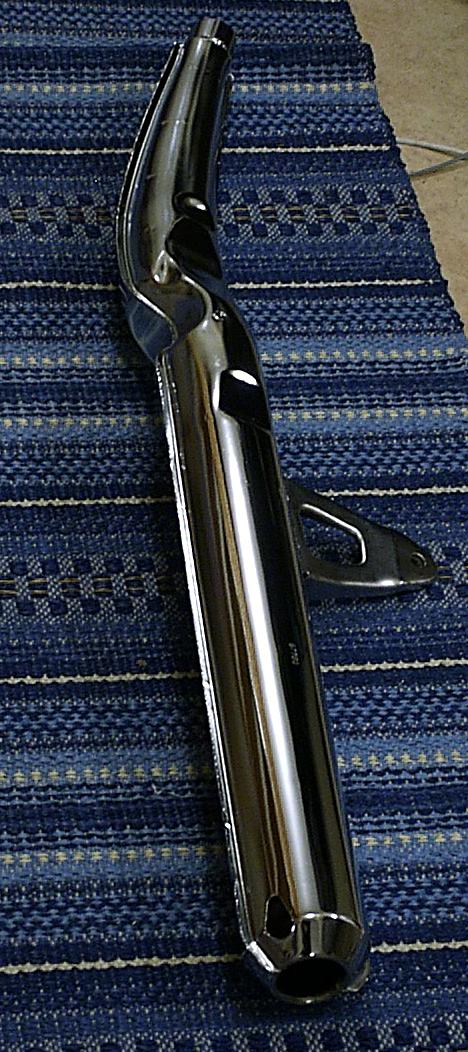 Inner LH muffler, very nice. So this fulfils a "pipe dream" for the L model as well.
March 12, 2004
No work has been done so far during the winter with this bike. I decided to go for a left hand inner NOS muffler that good ol' GTReiner is going to ship me. So I now have a complete unused exhaust system to install, with all new baffles. When that is done there isn't more to do with this bike than to enjoy "consuming the condition". Just about a month left now until the first bikes begin to appear on snow free roads...
GTReiner prices in Euros
1 x 750 L-B air filter element 14.--
1 x 750 battery cable (-) 5.50
2 x 750, 550, 380 silicon seal, exhaust/downpipe, centre 10.--
1 x 750 L-B exhaust, LH centre, inc. baffle pipe 195.--
1 x 750 baffle pipe, LH/RH 36.-- (for outer muffler)
1 x 750 SUZUKI' -emblem, generator cover 7.--
1 x rubber seal, oil level inspection glass 2.--
2 x clevis pin, seat bracket 1.--
2 x mini R-clip, clevis pin, seat bracket 0.25
October 24. 2003
Final milage reached since the rebuild was 762 kilometres. The bike is now off the road for the winter season. 2 degrees Celcius is a bit chilling.
At last I got hold of the pair of NOS outer mufflers from Vintage Parts that was lost for quite some time during shipping.
Quite nice condition, no dents which is the most critical thing, Some minor traces of 25 years of storage but nothing disturbing. They will look very nice once installed. It's hard to find a set of NOS 1974 mufflers, they are unique to that year (intermediate front pipes).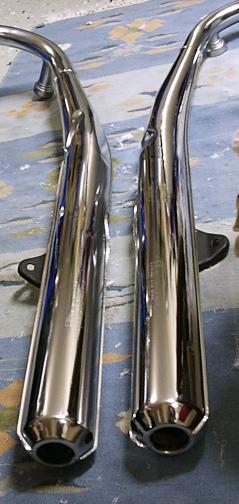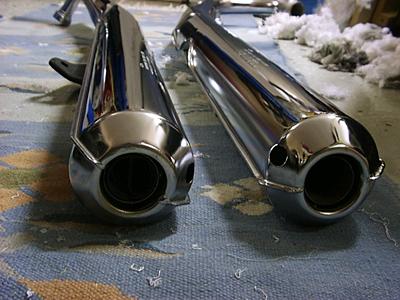 September 12
I had carburetores out to fix a fuel leak. I reinstalled the original Mikuni needles and set the clip one notch higher than the middle slot.
After a test run the conclusion is that this is gives bad throttle response at low openings. So I'll fix this when I have time. The middle slot seems best for my usage. I installed new plastic hoses so now the carbs look complete :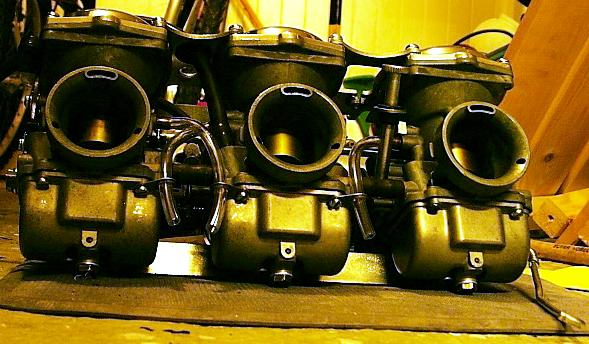 Anyway I did quite a lot of racing around the neighborhood roads one sunny Sunday this month, mileage was around 700 kms what I started off, and the engine now feels more at home above 6000 rmp. It's easy to explore beyond the run-in-instructions with this tempting package. Such as with wild Mustangs these bikes need a good riding in before they can be used fully :-)

September 06
I reached 170 miles now. And the bike seems to continue to work.
I revisited this page that shows photos that an american Mike Ricci sent me last year of a bike he was selling. And I didn't expect to reach a comparable level back then. But I think I really reached a good status.
The last expensive subproject has been to find a pair of NOS outer mufflers. I have bought a set (unseen so far) currently being shipped from Vintage Parts in Ohio with sea freight from Houston to Gothenburg, Sweden.
Yesterday I got hold of a RH inner muffler that I bought on Ebay earlier this year. So now only the inner left hand is missing to get a complete replacement. But no hurry, sooner or later one will show up. Back in May I directed it from the seller to Ray Meyers in California who was kind to hold it until I visited him in June. But the package was too bulky and the muffler looked to much like a terrorist weapon so I left it. Now Ray sent it to me.



Muffler in original paper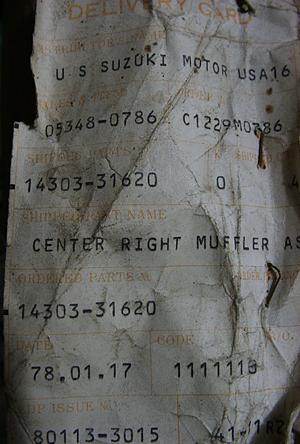 Archeology: The tag shows it arrived in stock January 17, 1978.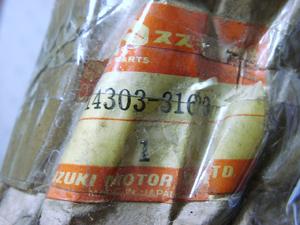 14303-31620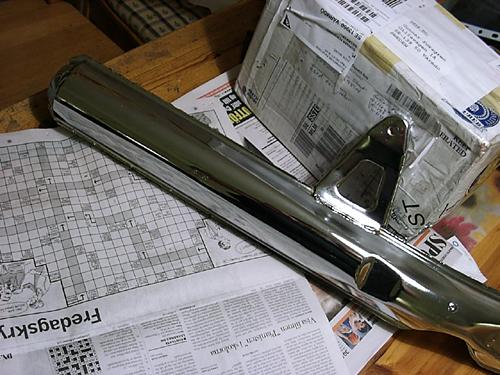 It's an iinner right hand for the MAB models. Thees have a different flow due to different inner diameter (see this technical bulletin from 1975), the interesting figure is this one :


Suzuki reduced the flow from the 1975 model year. Probably to compensate the removal of the intermediate pipes that year. But hopefully these are still pretty compatible.157 US dollars in an Ebay auction in May 2003.
The RH inner is the most visible of the two inner ones when the bike is on its side stand. So if you are a real appearance nut that one is more important to get visually good. A look at Ray's GT750L in Monterey, here and here shows how it will appear.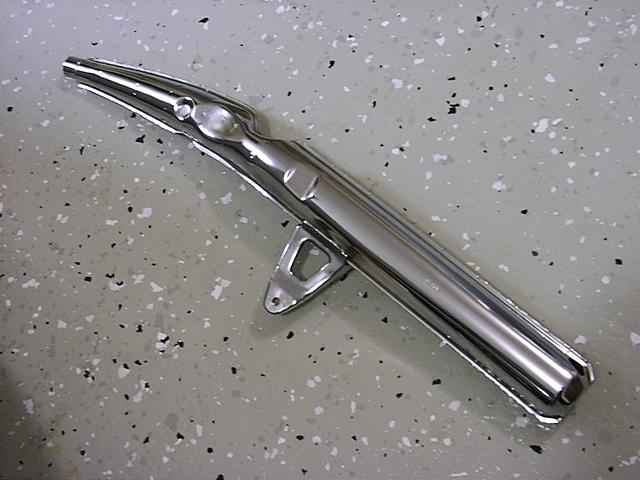 Right hand inner, very good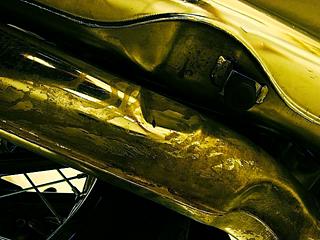 The old inner mufflers that are on the bike now are quite etched by battery acid. The pictures show the best possible result after cleanup, the rest is etched chrome. So it's a happy circumstance to be able to replace this muffler.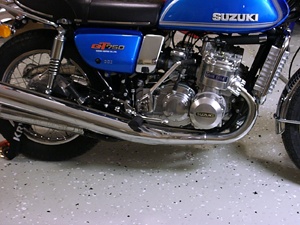 At a distance the etchings aren't that visible
August 15
Approved and road ready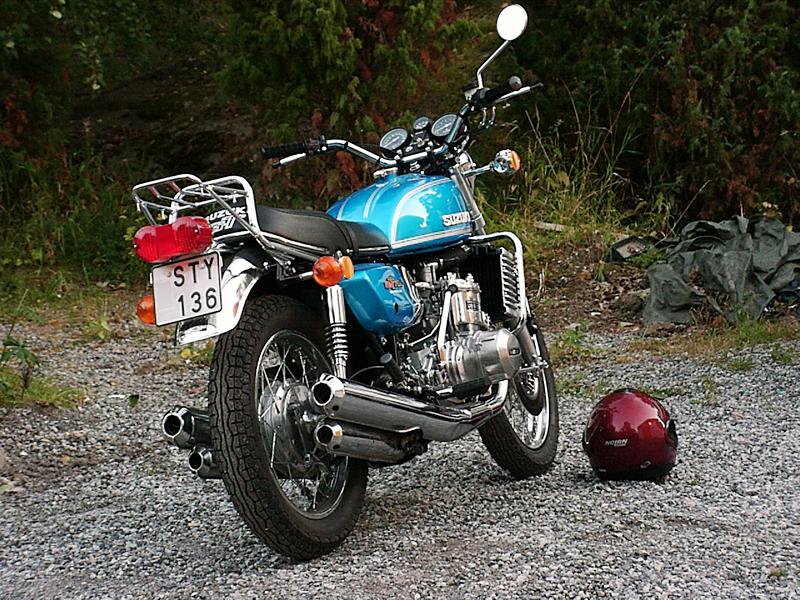 Click here to download a 640kbyte JPG suitable for Letter size printing. It's about what can be produced with a 1.2 Mpixel camera.
The bike passed the swedish government import registration and traffic inspection today without remarks. So the bike is now a legal swedish street bike. It was much less buearacratic than I had expected. Swedish rules for "import for own use" still voids many stepping stones that otherwise is a challenge for the importer. I didn't need to present much more than the original title. They weighed it and measured the wheel base and took notes of the tire dimensions. In total a bike originally bought for US $1000 will have cost a total of US $2400 including purchase price when it has become a legal swedish vehicle
(not including any of the restoration/modification costs :).

Undeniable proof of approval

July 29
Restoration completed !
After some usual incidents (couldn't find the chain link for the O-ring drive chain I was going to use so I installed the old worn out chain so I could get going, two harness connectors were at the wrong locations in the electrics central so I had connected the ignition coils to the alternator, hence no spark when I tried to set the timing, some usual water hose leaks when I finally got it right and started it up, that is; usual stuff that is no worse than any other day. But the fun thing was the engine started right up and still all seems well. I think the radiator keeps tight as well after I added some radiator sealer..
I did some 20 kilometres riding without revving up too much and it runs very nice, at least as good as before I restored it :-) but the engine is more restricted due to the rebore.
There is one odd thing, at small throttle opening the inlet noise is higher than if I open the throttle up a bit, so the bike is more silent when it goes faster. Can it be timing (inlet blow back?) or a carb sync issue or what ? Is it because I installed the thinner MAB head gasket to get more compression..) In general the CV carbs and its air box seems to be more of a boom box under the seat than what is the case with the J/K slide carbs and air box. If it's anything like the J model I restored It will take some 1000 kms before this type of engine begins to 'loosen up' during a run-in so I will do mostly 3500-4000 rpm rides for some time and not rush things. But first this imported vehicle needs to pass the registration and vehicle inspection so it becomes a legal swedish street bike.
Enough ! Here is the restored bike photo collection. The good ol Casio digital camera has a problem with the blue flake but I got a few nice photos. The chain covers are missing in the photos but you get the idea. You can click on most images to view a larger version.
Enjoy ! /gunnar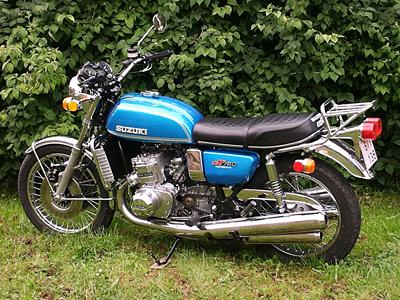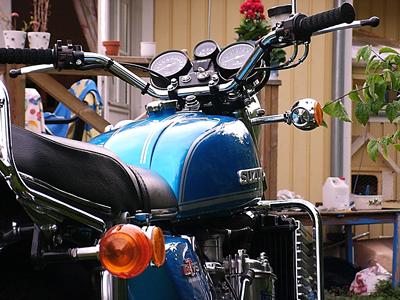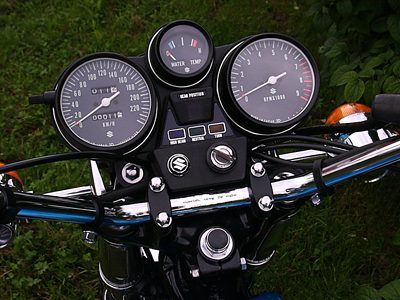 After the first 11 kilometres...


The herd of buffalo's, the L with its J stablemate.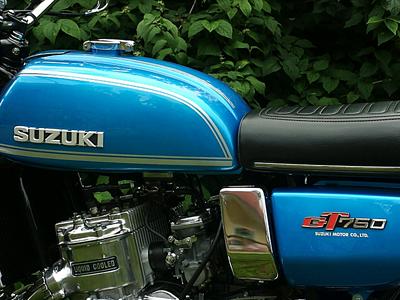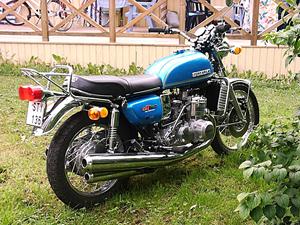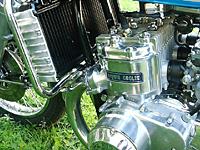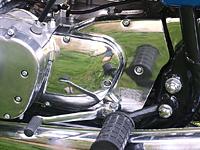 Various small buffing wheels on a power drill was sufficient to get some shine.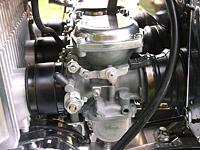 The finished carbs look almost as good as 'the reference photos'.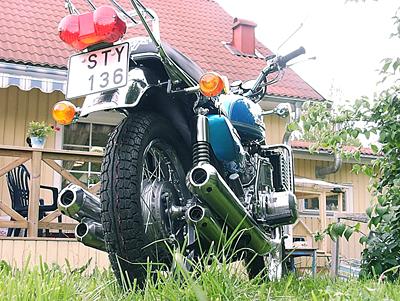 ---
July 28
Almost there now !
I've done a lot of work and not many photos got taken.. Tomorrow the 29th I'm going to start the motor up for the first time so it will be a big day in this project. More photos of the finished bike by then.
I still have to fill the gearbox and radiator with suitable fluids, and to set the ignition timing. So far everything looks very promising and if the engine rebuild turns out to be a success then this will be something to enjoy.
I reinstalled the old mufflers, they look unbelievably good in the below photo.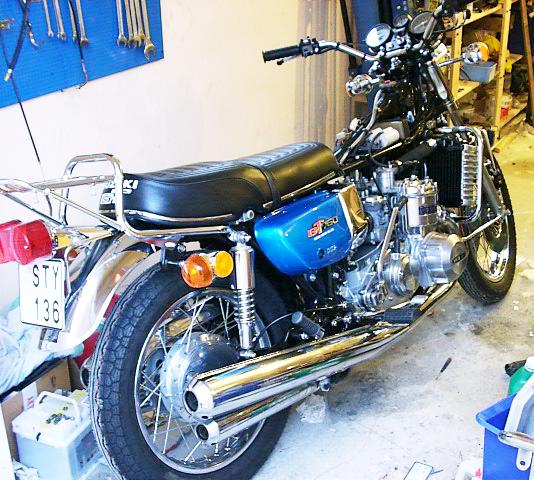 July 23-24, 2003
July 22, 2003
Assembling continues..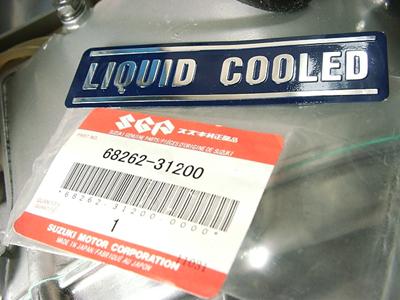 We need to tell the world here comes a liquid cooled water buffalo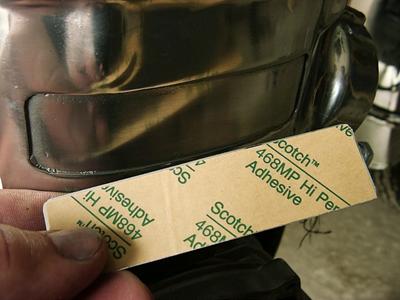 Decals are ready made with suitable glue ready to fit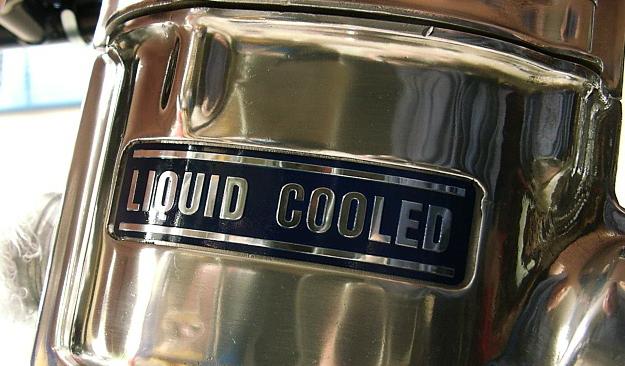 and here is the result !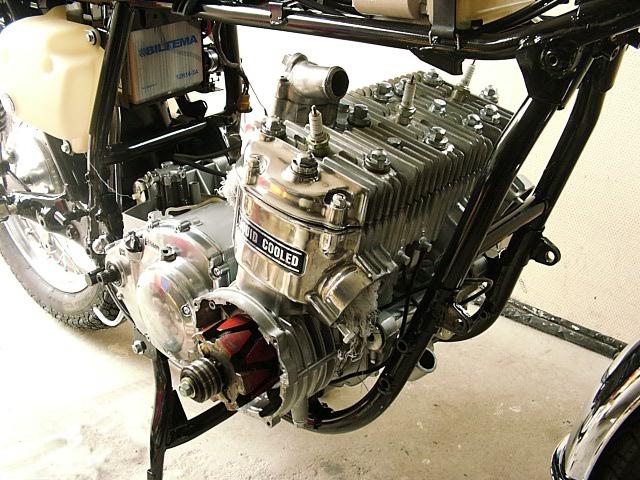 Engine in frame
July 21, 2003
Engine into frame..
It was time to get the engine into the frame. The engine hoist is a good helper here. I have made a wooden box on wheels on which I place the engine and attach ropes to it from the frame and with the help of a daughter who operate the hoist I pulled/lifted the engine in place, went without too much drama but she got bored and left for TV before I was done.



July 15, 2003
Engine is coming together..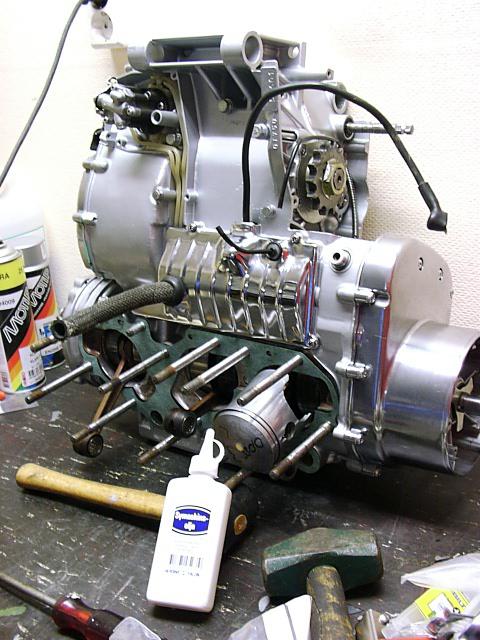 I placed the engine like this towards a wall and could then more comfortably slide the cylinder block in place once the pistons and rings were in place. The sledgehammer was not used in this process but the sewing machine oil was.

One of the piston pins (part of a "1.0 oversize piston top end set" from Paul Miller)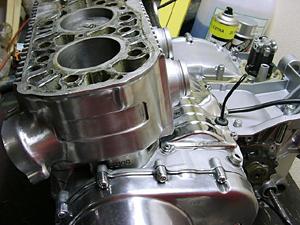 And to make the assembling story short, here the block is in place !
As initial treatment before installing the cylinder block I polished the sides using a nylon rotating brush, the other surfaces I painted with silver gray engine paint same as the case halves.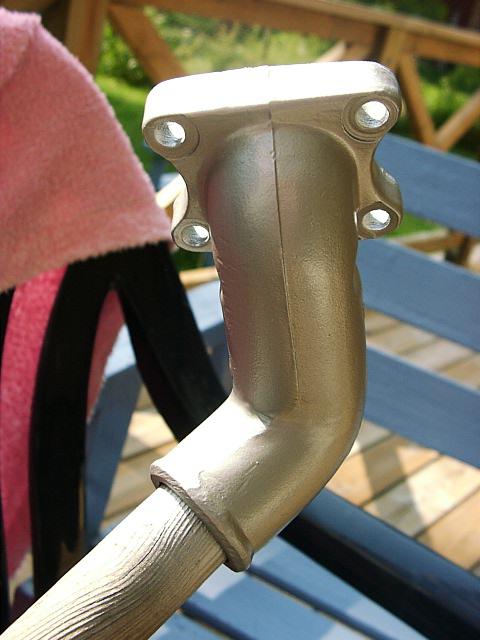 Water hose connector blasted and repainted.
---
Early July..

June 22, 2003

Zinc Plating Day

I spent most of the day zinc plating all the special bolts of the engine.
I use a Zinc Plating Kit from Caswell Inc.
I'm rather pleased with the finish I'm getting from it and the longevity of the chemicals.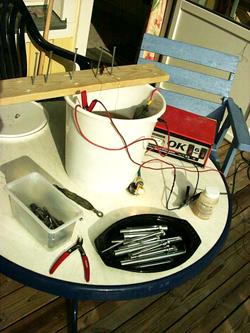 The Caswell Zinc Plating Kit is paying for itself here.
I use a 12V battery charger and a rear brake
bulb in series as a resistor to get proper current
flowing from the zinc plates over to the plated items
through the electrolyte.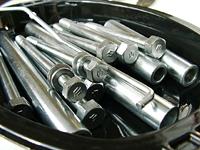 After plating + polishing with a rotating steel brush the parts look like new !
(engine bolts + engine mount spacers here)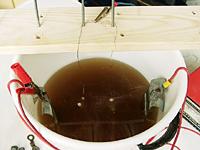 Some bolts getting the treatment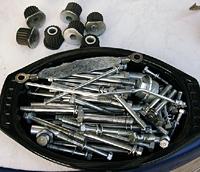 Phew ! The result of one day's work ! Click on photo for more detail.
Most of this is some vital bolts needed for the engine reassembly.
It's good to remember that the finish of plated bolts won't last forever
if the vehicle is used often in a wet climate but this bike will almost never see rainy days.
The zinc plated parts I did with this kit on the GT750J back in 2000-2002 still look
as nice as when the job was done so it's a worthwhile treatment in my opinion.