Maintenance Log
This page logs all maintenance activities and purchases of parts and tools needed for maintaining/improving this bike.
Last update August 13, 2014
Rather soon the degree of parts hunting increased and some nice parts got collected. I will do some detailing work the coming winter and might get into looking some at the engine. The bike have covered some 40000 miles but still runs well although there's some overall machine noise giving evidence of years of tough duty in the hands of over a dozen owners.
July-Aug 2005
I got myself this Suzuki Service Manual. It's among the best accessories to get for this kind of ageing sports bike.
I made it available online here !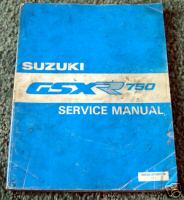 Here's some example pages, the most oil stained ones that deal with valve clearance adjustment :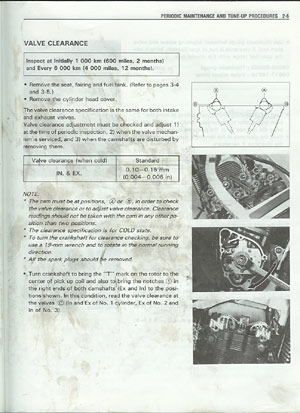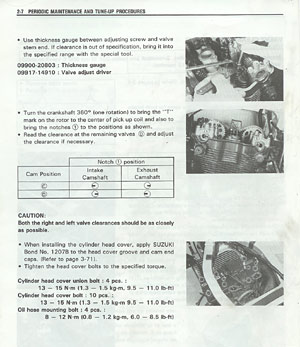 The parts gathering
There were quite a number of nice 80's GSX-R offerings on Ebay this summer.
I've mostly intended to do dome detailing that improve on the overall impression.
Some parts from Anderson Vintage Parts:
Main wiring harness, USD 25 (no photo for now)
Rear brake cylinder USD 25 (no photo for now)
Two (right hand) NOS front brake calipers, USD 25 a piece (no photo for now)
In another auction I got this left hand caliper for a GSX-R1100 (no photo for now), and it turned out it's identical in spec to the 750 ones. So I now have a complete NOS front end set.
Below some 17Cxx parts at good deal prices.. Throttle cable 8.50 dollars, Clutch cable 2 dollars !, both from "motografixx" in the U.S, one of the most reliable Ebay parts dealers you can find.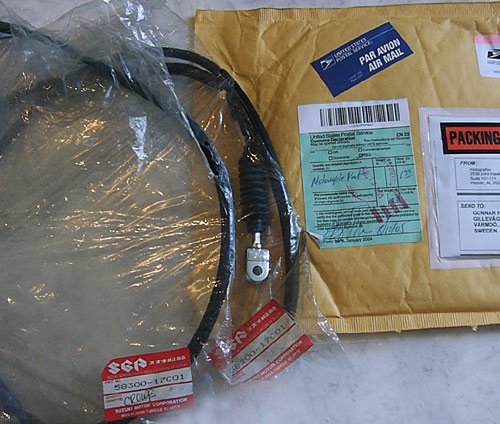 This rear cover (Parsec Blue/White) was a nice find (39 dollars), Top steering head plate (39 dollars). These parts do a lot on overall impression. Both from Anderson Vintage Parts.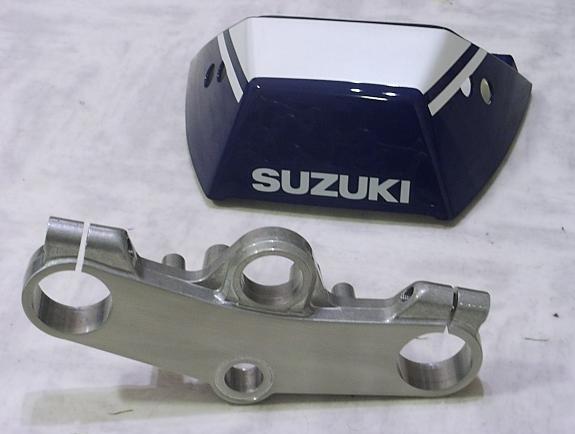 To match the finish I also got a new steering lock (Touringbutiken, Sweden) :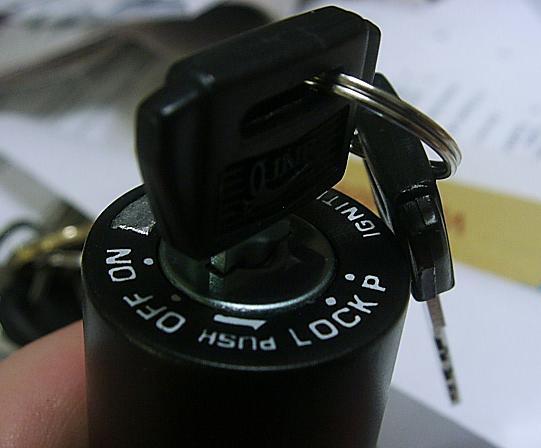 I got this instrument frame on german Ebay (10 euros) but they only sent the actual foam piece.


A swedish parts dealer asks 2000 swedish crowns for one which will remain excessive for anyone.
2005-10-02: I won an Ebay action for this NOS frame ! So this strengthens the overall detailing effort a lot.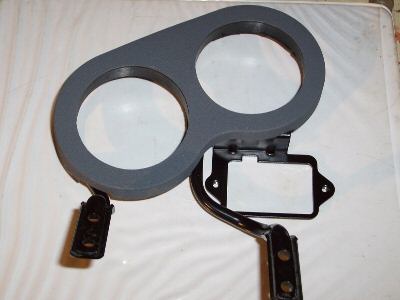 Tank protector (bra) actually a Suzuki America original part- it has an embossed GSX-R logo. Ebay 26 dollars
2005-09-04: This solo seat cowl from German Ebay (12.99 Euros !) http://cgi.ebay.com/ws/eBayISAPI.dll?ViewItem&item=7989132130 + 18 Eur shipping.
"in gutem Zustand – keine Risse Dellen oder andere Beschädigungen". well at least after an hour of rubbing with a wax polish it looked rather good. I will need to find the blue back pad (in blue) before I can use it.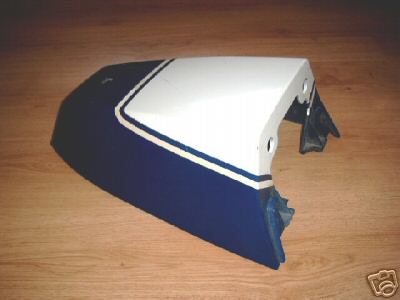 Exhaust system(s)
Exhaust systems are a hot topic for hyper sport bikes. it's interesting to try various models to end up with one offering a good balance between quality, sound level and power curve.
A bit too many systems passed before my eyes and I obtained one system after another thinking I would have to cease the opportunity. Anyway I have the variants I need now and I still am within decent hobbyist budget levels.

Stainless steel system - BMS Future
I found this system on german Ebay. I hadn't planned to make this kind of investment but I think I have to act when a just about drand new system of this spec turns up that is specifically made for the 88-90 models. It had costed over 700 Euros as a new part. The system was brand new in march 2005, the previous owner used it some 1000 kms then parted out the bike.

The seller refused to ship outside Germany but a Suzuki clasic bike friend in Germany kindly offered to assist in relaying the package to me. So he managed the bidding, had the package shipped to him and forwarded it. Very kind.help. See how the system was described in the auction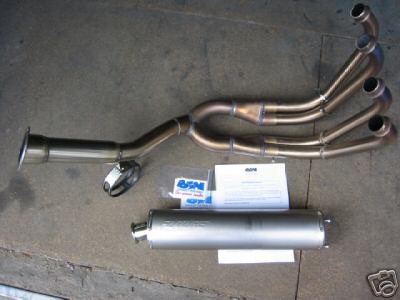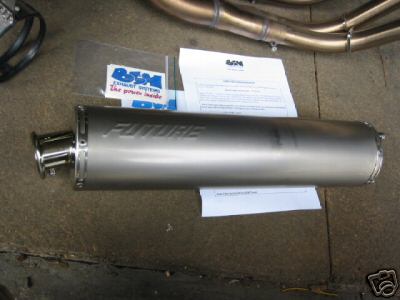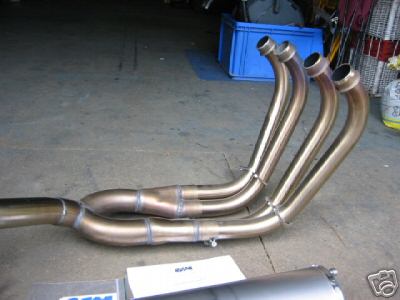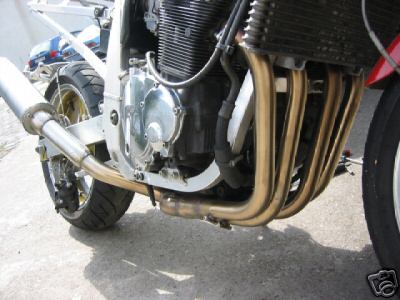 The seller's photos from the bike that was parted out.
2005-09-04: 1989 original 4-2 mufflers !
latest news I also aquired this complete original exhaust system for a 1989 GSX-R750 for 60 Euros + shipping, from german Ebay. http://cgi.ebay.com/ws/eBayISAPI.dll?ViewItem&item=7996910927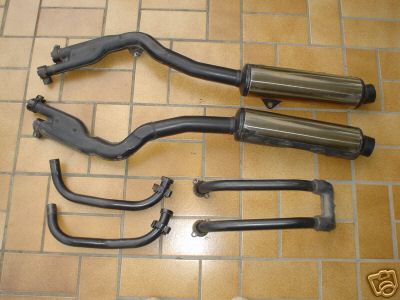 It appears to be very fresh and seems to have been removed early in the life cycle. (60 Euros + ca 50 Eur shipping).
Check the 1989 brochure to see how it appears mounted on the bike. It's identical to the 1988 system except it was just plain matte black finish. I'm curious how the bile will run with this system so that's the reason for exploring it. it will not have any performance advantages over a 4-1 other than maybe some mid rev torque advantage.
This system is equipped with exhaust pipe area limiting metal rings close to the top of the pipes where they connect to the exhaust ports. This is for reducing engine power to stay within the 100 hp limit in effect for motorcycles in Sweden (and some other european countries such Germany) back in 1988. I'll try to remove the rings to restore the pipe diameter. (Original spec was 112 hp, which means 3 hp more per cylinder). So it's a cool research topic. it also motivated me to research an obtain a pair of rear footpeg assemblies.
Original mufflers for the 1988 model
I spent "too much time" scanning german Ebay in search for good deals and won these mufflers for 50 euros + shipping. Ebay och anskaffade dessa för 50 Eur + frakt. It remains to see what shape I can get these into.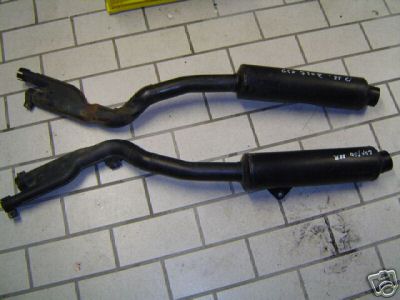 Rear footpegs
These rear footpegs look to be in fresh condition and are on their way from the U.S

Top end gasket set 88-89
A gasket set is hard to source given the special bore for the 88-89 models.
But I won this one after som Ebay competition.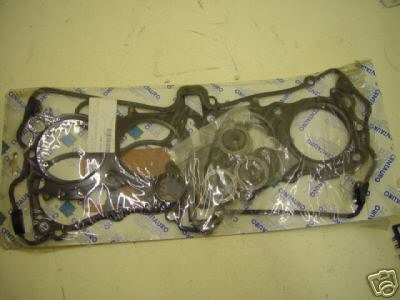 Dynojet-kit
Here's a (Stage 1 + 3 ) Dynojet kit I found on Ebay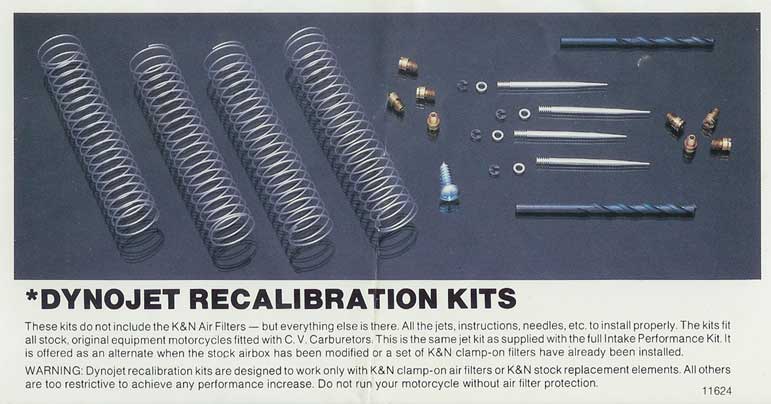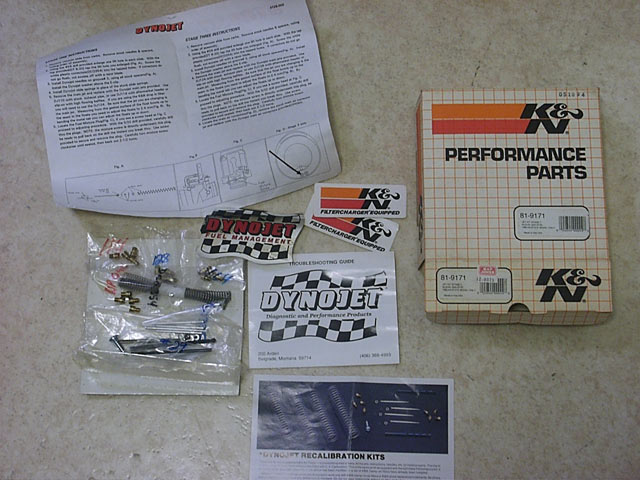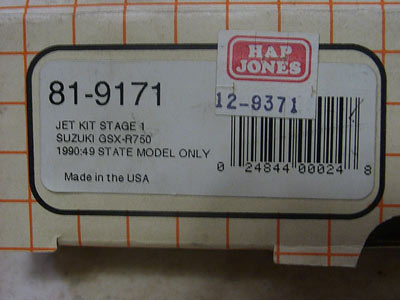 Enjoy the scanned DYNOJET instructions above ! Some drilling and threading is involved in this recipe.

Here is the Dynojet troubleshooting guide of this kit
---
Traffic Approval
I got it to pass traffic approval with the legal sound level Honda muffler on the 4-1 system.
Restoring a few cosmethic details
I reinstalled the original rear fender and a home made inner alloy fender, some mini rear flashers which a previous owner had installed to update the appearance. But I think the bike looks better with the rear end parts I have now. I even ordered a replacement registration plate to improve on the finish.
20 Aug -05. Here it's getting dark but I accomplished some photos anyway. Here with original rear fender and indicators, and new tires. traffic approved, Honda muffler.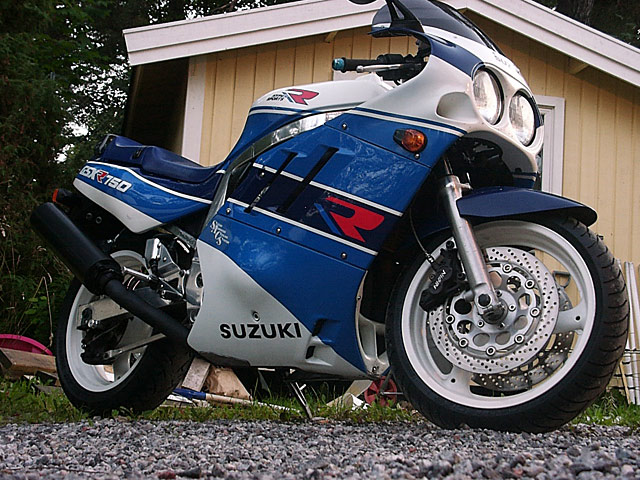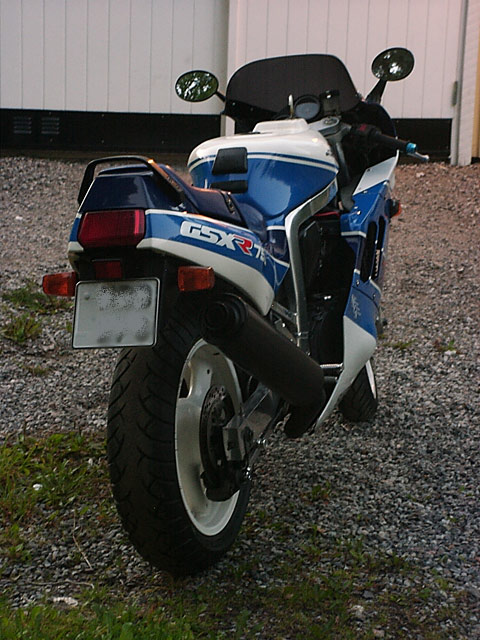 Tires
JI had new tires installed, Metzeler Roadtec Z6. (rear 170/60ZR17, front 120/60ZR17).
It resulted in a much improved road experience and more trust/adhesion.
---
Februari 2006
I found this solo seat accessory for a '88 model, never used, 600 Swedish crowns.
The back foam is usually hard to locate.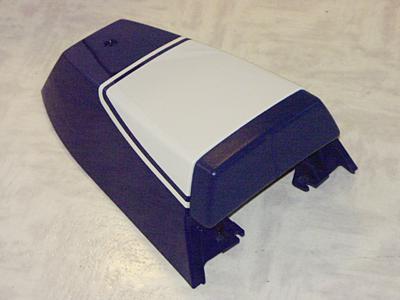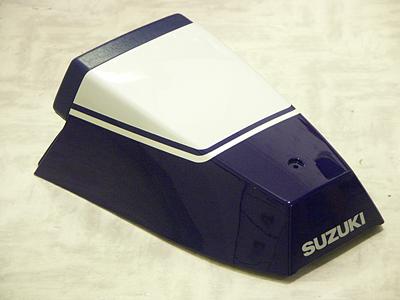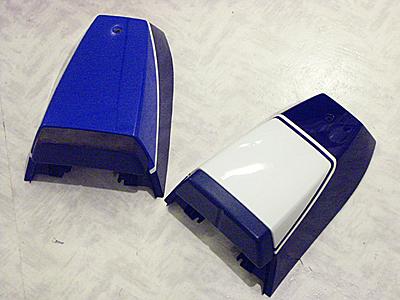 Here in comparison to the one that came with the bike. I'm not sure if any model came with this blue/blue color scheme ? 1990 ?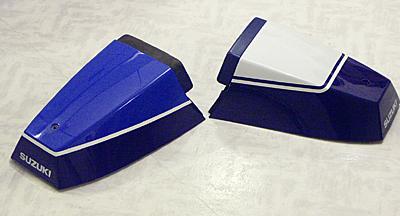 April 2006
I came across this 1988 user manual on Ebay, as new and not expensive.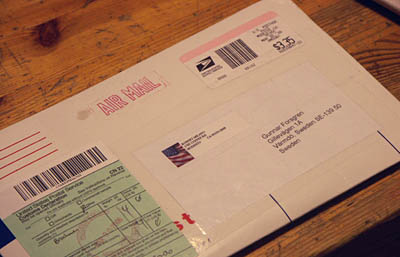 Manual arrived in the mail

Nice condition


Sample pages